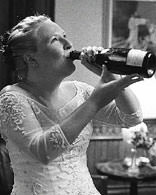 Unfortunately wedding-day stress is all too common. (Don't let it drive you to excessive drinking!) It can be lessened by hiring experienced professionals that you can trust to take care of you. Your wedding day should be an enjoyable time with friends and family. You have prepared and planned to look beautiful and have worked hard to create an atmosphere of elegance. You want this captured in your photographs but don't want to spend all day posing for pictures. You want to have fun with your guests and enjoy your day ...your way!
Few photographers have the ability and skill to deliver great photos in a minimal amount of time. This is where we really shine! Although we can't always eliminate wedding-day stress, we can insure that everything about the photography is stress-free! We will capture what really happened on your wedding day (not just what the photographer made happen) in all its beauty and elegance in a fun, spontaneous and natural way within the timetable you have planned.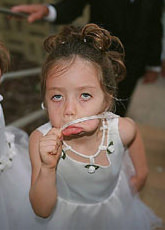 You don't need to spend your whole wedding day posing for pictures, but you can still get those great photos that tell the complete story of your wedding just like you've dreamed about! Our ability to 'work-on-the-fly', perform under pressure and get the job done despite unforeseen set backs, makes us unique.
Ever been to a wedding where the reception started late because the photographer took more time than he should have? Just like you, we don't want to spend too much time with posed and contrived pictures, so we will help you get organized in advance and insure we get all the pictures you want in the least amount of time possible. That way you don't keep your guests waiting! We want you to enjoy your day ...your way because we haven't forgotten that it's all about YOU and not the photographer!
Don't like how you look in photos? Our unique photojournalistic style will naturally capture you at your best! If you choose, we will create natural group portraits that are fun and relaxed. Our 'low-stress' approach manifests itself in more natural looking photographs. We believe nobody wants to spend any part of their wedding day with a bossy photographer and be made to feel awkward, silly and uncomfortable!
Stress-free photography doesn't just happen, it takes years of experience, lots of specialized technical equipment and backup equipment, professional skills and know how, lots of 'behind-the-scenes' hard work, lots of patience, an artistic eye and a unique ability to 'shoot-from-the-hip' and 'work-on-the-fly' to capture the beauty and elegance of the event without being a nuisance.
I'm what they call in the industry a 'two-fister!' When I cover a wedding I have one camera in each hand and a third one on my hip. Not an easy task, even for the experienced. I'm loaded and ready for anything! (I also have 3 more cameras not more than 20 feet away.) You can bet I will get that distinctive shot. If a camera breaks ...no big deal, if one runs out of film ...no big deal!
Stress-free photography isn't stress free for me and my staff... but we make certain it is stress free for you because the last thing you need to do on your wedding day is worry about the photography. (Your wedding day isn't about the photographer or the photography... it's about YOU!) That is why we work to make your day the way you want it. You tell me how much time (if any) you want to spend on your wedding day posing for photos and what is important to you and I will make it happen.
Anyone that has seen me work and seen my work knows that this fun-loving guy takes my motto seriously: "Your day ...Your way!" I insure that any stress you encounter on your wedding day has nothing to do with the photography! You worry about the MOST important things on your wedding day, 'cause I've got the photography covered!