HOME STUDIO: Headshots / Portraits / Artwork / Proofing / Restoration
EVENTS: Wedding / Mitzvah / PhotoBooth / Corporate / GreenScreen / e-mail

Scroll down for more information:

Offering: Professional Photo Restoration
Including: Headshots, Family Portraits, Commercial Advertising, Photo Booth, Greenscreen, etc.
Offering: Editing, Retouching, Restoration, Duplication, Scanning, Custom Layouts, Archival Printing, Instant Printing, Matting, Mounting, Framing, Laminating and Finishing.

EVERY image is adjusted by hand! Every photo shoot includes un-watermarked digital proof files.

Click here to view our Photo Galleries of our most recent work.

"Your artwork is a representation of you --your image should be impeccable!"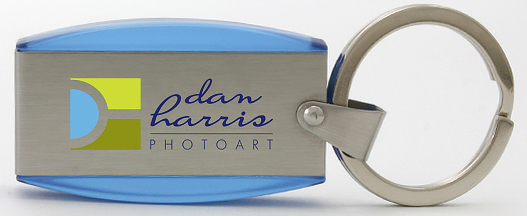 Digital files delivered on a USB Flash Drive
---
RESTORATIONS
No need to fight over that one last deteriorating photo of great grandma, we can restore it, duplicate it, re-frame it and even repair the original frame.
The big difference; this time it will last over 200 years instead of just 50 years!

For more detailed pricing info go to:
www.HeirloomPhotoArt.com

(hold your mouse over the image to see the original)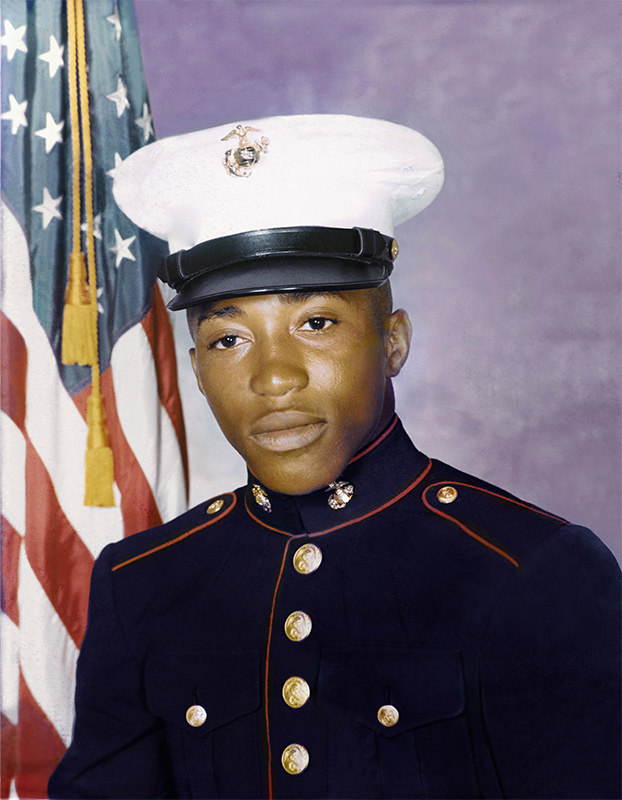 This glossy photo got stuck to the glass it was originally framed under and ultimately the glass broke and damaged the photo.
This small photo was carried around for years and ended up torn and tattered.
Heirloom PhotoArt® ...for generations of enjoyment.
---
photoARTslides
Call today for a free consultation. Superior-quality archival reproduction isn't expensive... It's priceless!
We Capture, Perfect and Preserve your photos and artwork. When you work with us, we will perfect and improve your image to look it's best and deliver archival products that will last multiple generations --Guaranteed! Most low-cost internet providers don't. We are happy to prove our worth, (at NO initial cost or obligation) bring us your original artwork, digital file and print (to compare) and let's make you a much better quality copy so you can see the difference.
Let's talk business: During his college years (in the early 80's) Dan worked in a commercial reproduction facility where he received extensive training in this type of work. He has been photographing Art for Artists ("PhotoArt") since that time and it became part of his company name when he opened his studio in Florida in 1997, back in the days of transparencies, pre-digital. Today he has all the top-of-the-line digital equipment, know-how and experience to do the job right!
Today some reproduction facilities, with similar equipment, are charging anywhere from $60-$250 per piece for a digital scan of this type, $175 for giclee proofing and then printing charges. Because of our specialization we are able to provide Hi-Res digital files on your choice of a '300-year' Gold Archival CD or USB Flash Drive for as little as $25 per image (and much less for full-time art students). We accept all major credit cards (including AmEx, discover and diners).
We use world class, top-of-the-line equipment in a scientifically callibrated, color-corrected and balanced closed-loop system to insure repeatable color accuracy. -Guaranteed.

Digital File Only:
| Quantity | Price Each |
| --- | --- |
| 1 | $50 |
| 2-3 | $45 |
| 4-5 | $40 |
| 6-7 | $35 |
| 8-9 | $30 |
| 10+ | $25 |
Giclèes and Archival Pigment Prints on photo paper, cotton rag or canvas range in price
from $12-$24 a square foot depending on the paper type, size and quantity.
Our prints look better because we use an HDR printer and insure accuracy by profiling our camera, monitor and printer.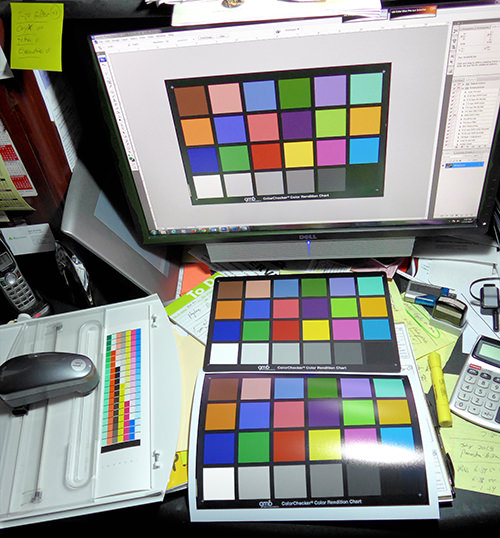 Still not sure? Let's do a FREE test!
Do it yourself: Photograph your art and print it on your home computer then bring it in and let us do the same with our equipment and you can compare the two. You are under no obligation to purchase anything, but I think you will be amazed at the differences and surprised that you thought DIY was good enough.
Frequently Asked Questions
What is your philosophy? Our goal is to make your artwork (or digital image) look the best it can while still maintaining accuracy and honesty in reproduction. This is best accomplished with a personal consultation and proofing session, (not mail-order). Often art will look very different under different lights or viewing conditions. Sometimes it is good to take a test print to the gallery with your original and compare how the lighting affects both. We are able to photographically reproduce the subtle textures contained in the original artwork including the background color, depth and unique textures of mixed-media pieces.
Where do you photograph or scan my art? In our Historic San Marco home studio location -- 1 mile south of downtown Jacksonville -- by appointment only. Your one-of-a-kind pieces don't leave our premises.
Do you photograph on location? Yes, but the pricing is different than shooting in the studio. Please call for details. The studio lighting conditions are optimized for this type of work resulting in the best quality possible.
My artwork is framed and/or under glass -do I need to remove it? No, because we are using high-end superior photographic equipment (not just a scanner) to capture the image, shooting through glass is not a problem for us. Artwork in a frame that is able to hang is even easier.
What if my art is mixed-media or on a bulky base or large wood? No problem. 3-D work is our specialty. Our unique process really helps to highlight the unique textures and unique materials that make your art stand out.
How long does it take? Our standard turn-around time for digital files is 2-3 working days. We can provide same-day rush service if needed. Giclee print work may take longer due to proofing, computer re-mastering, drying and coating times.
When I order digital files only what will I receive? With our standard service we provide Large and Small file sizes on your choice of a Gold archival '300-year' CD or a USB Flash Drive. The CD/USB Drive will contain our Hi-Res Large Jpeg, aprox: 16 x24"@300 dpi jpeg file for general in-house printing of postcards, flyers, etc. and a Small Jpeg, aprox. 1260 pixel image for e-mail, websites & computer presentations. With our Mega or Super-Sized publication service (min $50) we provide a Gold Archival '300-year' CD or a USB Flash Drive that contains: a Mega Tiff aprox.32 x48"@300 dpi or a Super-Sized Tiff aprox. 64 x96"@300 dpi. As an open-architecture 16-bit printer's Tiff for professional publication and limited-edition reproductions.
What if I lose or damage my original CD/USB? We keep a backup copy in a fireproof safe for up to 5 years so we can re-burn a new one for you.
What is a Giclée? The word "giclée" (ja-CLAY), was derived from the French language word "le gicleur" meaning "nozzle", or more specifically "gicler" meaning "to squirt, spurt, or spray". The name was originally applied to fine art prints created on Iris printers in a process invented in the early1990's but has since come to mean any high-quality, archival 'sprayed-ink' print and is often used in galleries and print shops to denote such prints.
How is an archival Giclée different from a photo print or ink-jet print? Today's best Giclée printers use 10-12 different archival pigment-based ink colors to insure color accuracy and longevity. Our top-of-the-line archival Giclées have been coated with a UV protectant that not only protects the image from damaging: ultra-violet exposure, moisture, humidity, atmospheric contaminants, abrasion and fingerprints, but has been independently tested to not fade (based on the type of storage conditions) for 200 to 400 years. Photo prints will begin to discolor in 25-30 years and most ink-jet prints discolor within 5 years.
How much can I sell an archival Giclée reproduction of my artwork for? The average retail selling price is anywhere from 25-50% of the price of your original piece (plus framing) for unlimited smaller prints. Limited edition larger prints or artist-enhanced prints can sell for much more.
What other services do you offer? We can also duplicate and restore old photos and help you create a portfolio with our portfolio prints and also can provide a headshot for your bio. We also offer mounting, matt cutting, gloss laminating (2-sided hot or 1-sided cold) and framing services.
What is the difference between a photo print and an archival giclée? A photo print is a standard-sized 'proof' print of your work on standard photo paper for inclusion in your portfolio. It is not enhanced or UV coated and has been tested to not fade for up to 75 years whereas a master giclee printed on 100% cotton rag paper or canvas that has been UV coated and stored under UV inhibiting acrylic has been tested by an independent lab to not fade for 200-400 years.
I made a poster board of old family photographs we displayed at our family reunion, can you reproduce it? Yes, and unlike cheap 'photo copies' our reproduction quality will be as good or better than the original!
Why when I use my own digital camera to photograph my artwork the colors don't look right? Your camera only records 256 colors (ours records 65,536 colors per pixel - 256 times more) some of the colors used in the original artwork are not available colors in your camera so your cameras program will default to the closest color it has available which may not be close to the original. We use a closed-loop, scientifically measured spectrometer and color-calibrated system with a Deep Color 10-bit monitor and specific LCC and ICC profiles to insure accuracy and consistency. (a much more sophisticated system than most personal home computer setups) (click here to learn more about digital vs film images)
Can you provide slides or transparencies? Yes, 35mm slides mounted in archival holders (not paper) are often used for personal records.
I thought 4x5 transparencies were the standard for publication? That was true years ago, before high-quality digital existed. There was a time when we produce a 4x5 transparency, as an intermediate step, which was then used on a drum scanner to make CMYK printing negatives or a digital file. Later, as digital processes evolved, the negatives were replaced with a Direct-To-Plate printing processes. Today we skip the intermediate steps (transparency and scan) and go direct to a high-resolution digital file.
How long have you been doing this type of work? In the early 80's Dan worked in a commercial reproduction facility while attending college and he has never gotten too far from it since. Technology has improved the workflow and quality on short runs but the principles of the reproduction process remain the same.
I had slides taken years ago of some of my work can you convert these to digital? Yes, the pricing for our digital scans depends on the quantity and quality required. Our scanner is pro-quality and will do a much better job than any consumer descktop scanner. Please call for details.
Do you offer student discounts? Yes, for full-time college students with proof of current enrollment.
What about artwork on thin paper? Not a problem, we have a 32"x39" vacuum table that holds the artwork flat, without damage, while it is being photographed.
What if my work is on a colored or specially textured paper? Not a problem, the reproduction will be made to look just like the original including background coloring and paper textures. The same is true of collages, we want them to reproduce with the greatest amount of depth, detail and texture so they look true to the original.
Do you shoot 3-D work? Yes, but if your work is fragile (or greenware) we ask that you handle your own pieces during the shoot to insure it's safety and to preview the images to be sure we have captured the proper angles.
What size prints can be made from the high-resolution digital files? We have had billboards and two- and three-story banners produced from our standard original files. The maximum size we offer in-house for archival Giclees is 60" wide and up to 80 feet long. If you plan on producing larger-sized, limited-edition prints, we can capture the original in a larger size so it will meet your exact output size requirements.
I am not the original artist, but I own artwork and want it photographed. Can you do that? Yes, for personal & insurance archival records but please remember that the original artist maintains the original copyright and you may have to get permission from the copyright owner to print copies.
Can you make slides from digital files (or digital files from slides)? Yes, but the quality is much better if we start with the originals because second- and third-generation duplicates tend to increase contrast and lose clarity. If the original is totally unavailable, we can work with whatever you have.
I've had Giclées printed that have strange color casts and shinny areas in the dark ink areas that change with the lighting conditions? Metamerism is all too common of a problem with inferior print systems. Our top-quality system insures your blacks and whites will look the same under any lighting conditions without any color crossover, strange color casts or bronzing.
Can I print my own prints on my home printer? Yes, but they won't last as long nor will the color and quality be as consistent. Our portfolio prints are electronically 'certified' for accuracy and longevity with our highly-sophisticated software and color spectrometer. Our Giclees go through some additional processes insuring archival 200-400+ year quality. Home prints never sell for as much as commercially produced and certified archival Giclee's. Home printers typically use 3-color Dye-based inks which are not archival and although they may make nice prints at first, their output consistency eventually diminishes. We have the best equipment and software for the job and our master print maker insures it is done right! We can give you consistent, color accuracy with each print and reprint order. You wouldn't want to risk your reputation and integrity as an artist by producing inferior-quality reproductions that don't provide lasting value.
When I order prints online why don't they look as good as the ones you print? Internet ordering programs 'dumb down' your digital files either in the upload process or in the size restrictions and file upload limitations thus reducing the quality of the original file they are printing from. Also, to be 'competitive', many online printers reduce their costs by using cheaper substrates and faster printing methods with less 'dots per inch' to reduce ink usage or don't apply adequate protective overcoats. Our master printmaker meets with the artist during a quality-assurance proofing session and will digitally re-adjust portions of the digital image as needed to insure maximum-quality output. We print from the original camera or scan files at maximum resolution in a closed-loop system to insure there are no quality leaks --insuring world-class service.
I have seen framed Giclées that have fogged the inside of the glass, what causes that? Impatience... if a Giclee isn't properly cured prior to framing and gets exposed to a strong UV light after framing, the inks that aren't totally dry will release a gas which collects inside the frame. This can be corrected by unframing the art, cleaning the glass and letting the print cure for 48 hours at a minimum temperature of 70 degrees with a maximum humidity of 50%. If a Giclee is coated prior to proper curing, this same problem can cause milky looking areas under the protective coating. We guarantee all our work and don't rush the process so as to avoid these problems.
Why does my artwork look different on the computer? It may also look different on different computers and under different lighting conditions. Most backlit viewing systems (monitors, screens, TV's, etc.) use the additive theory of light (all colors equal white and no light equals black) while printed and painted media is using the reflective principles of light (all colors equal black and no color equals the background media color). So even if everything were equal (which it's not) there will always be differences between the two. Computers and digital projectors have a tendency to add contrast and color saturation. The issue is also compounded by different white balances/ K-color of the monitor, screen, projector bulb or viewing lights and the fact that these color temperatures are constantly changing over time. When you add to these issues the reflectance factors and fluorescent characteristics of the artists materials, which may be seen dramatically different by a camera or scanner than by the human eye or that different people perceive color differently, you can have a real mess. Currently electronic devices (computers, printers, cameras, scanners, etc.) are unable to reproduce the full spectrum of light that the human eye can see. (see also color gamut) Computer monitors display fewer colors than we can print on a Giclee. This is why we like to have the artist involved in each step of the process so when an adjustment needs to be made we can be sure it truly reflects the artists original intentions. We have exacting color controls in place and are able to reproduce your artwork as accurately as humanly possible.
I talked to another company that said polarizing filters must be used to reduce reflections while scanning my art? Polarizing filters will eliminate reflections, but they will also cause undesirable color-shifting. We will reduce the reflections to not more than you would normally see with the human eye, while still maintaining extremely accurate colors. We feel color accuracy is much more important in making the best reproductions.
How long will a Fine Art Archival Giclée last? We use Archival Pigment-based inks (not dye-based) on 100% cotton rag paper along with a special non-yellowing UV coating which has been independently tested to not show noticeable fading for over 200 years for color images and over 400 years for black and white images when properly stored under UV inhibiting glass or acrylic. Learn more information about image permanence from Epson.
Do you coat your Giclées? Yes, we apply multiple coats of non-yellowing, WIR certified, acrylic resin (some printers use a light aerosol spray which is easily scratched). This process protects the print from UV exposure, moisture, humidity, atmospheric contaminants, abrasion and fingerprints. This resin has been independently Performance Certified by Wilhelm Imaging Research. (Also See Epson's Image Permanence Report)
Please note: Due to color and clarity differences between computer monitors and programs, the color shades, lightness/darkness and clarity of these photos may not be correctly represented on this web site. All artwork on this page is copyrighted by the artists and cannot be used without permission.
This complete website (www.danharrisphotoart.com) and all content (including photographs and verbiage) has been designed by Dan Harris and is copyrighted and cannot be used without permission. ©2016 Dan Harris PhotoArt All Rights Reserved
Print what you want to preserve!
Dan Harris PhotoArt, LLC
(904) 398-7668
1124 Riviera Street
Jacksonville
FL
32207