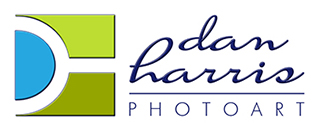 Your one-stop shop for everything photographic
By International Award Winning Wedding Photojournalist Dan Harris

~ Located in the historic San Marco area ~
(just south of downtown)
1124 Riviera St. Jacksonville, FL 32207 (904) 398-7668

You deserve the BEST!

---

As you view various photographer's websites you see lots of 'pretty pictures' (rings, shoes, decorations & things AND unrecognizable brides & grooms in magnificent suroundings) without much more to go on. Have you noticed that you really can't see the people in many of those advertising photos? Would you be happy with photos like that from your wedding day? The best advertising photos don't always make the best REAL wedding-day photos. Isn't a wedding really about you, your family & friends celebrating your happiness? --the people really make the day! A website of 'just pretty pictures' leaves a lot of unanswered questions and may not tell the REAL story. How closely does a photographer's 'advertising photos' on a website represent what you will really get on your wedding day?
---
We guarantee your happiness and the finished results!
You've worked hard on your incredible wedding, it will be the best event ever! Don't let it be just a short-lived blip-on-a-blog, make sure it is documented and remembered as the best possible --now & forever, for both you and future generations.


"Preserving the REAL personality of your event in a stress-free and spontaneously fun way!"

Lots of photographers come and go, too many of them are 'cookie-cut' from the same mold with their 'pre-conceived' demands on what your wedding day should be! (and too often your wedding day becomes one long, drawn-out, unpleasant modeling photo shoot!) We are different than the others, we are unique, just like you and want to see your dreams become reality!

Who should you trust your once-in-a-lifetime memories to? Family and friends may NOT be your best choice! We will work with you along every step of the way and insure "Your Day, Your Way" with the best possible results, in an efficient and effective manner and insure your ultimate success --without ruining your wedding day. We will preserve your event for a lifetime of lasting memories. We are a 'one-stop-shop' that can provide everything you need from incredible retouching and design to superior printing of: Save-the-Dates, Wall DecorArt, and Heirloom PhotoArt® Albums.

As our previous brides say: We are "fun, accommodating, unobtrusive" and "easy to work with" and will provide the perfect experience for your wedding. We deliver world-class quality at a fair price, that's why you will be thrilled you got us! There is only a limited amount of events we can cover each year. We don't work with just anybody. We value honesty and authenticity, so we won't 'over sell' you with false promises we can't keep. Let's talk about your needs, so we can decide if we are a good fit.


Will your favorite wedding-day photos be the ones of the 'cute couple' posed in front of the church, or by the water, or in front of your venue or laying on the grass? (did you really want to lay on the grass in your wedding dress? on your wedding day? is that something you would normally do? or did the photographer make you do that?) When you look at your wedding-day photos, will they bring back memories of what your photographer made you do? or Will they bring back your memories of what great fun you had and how fantastic your event was for you and your friends?

Our goal is to have your photos bring back your REAL memories, not a reminder of what your photographer said or did, that's why we won't make you late to your own party or force you to do things you didn't plan on!

Please note: We are NOT in charge of the lighting at your event, we can take pictures in pitch black darkness so you can set the lighting to create the exact mood you want!
We have the equipment and experience to get the best possible photos --no matter the circumstances!

It's your day, have it your way!
The typical industry standard for quality wedding photography services cost 10-15% of your overall event budget. Sure you could pay less and get less, but why risk it on your once-in-a-lifetime event.
Here's just a couple things that lower-cost providers don't include: the experience to get the job done right and in a timely fashion; extensive retouching; archival quality-guaranteed finished products; professional layout and design; top-of-the-line equipment; extended fireproof backup of images; professionalism and assistance to insure your peace of mind!
"None of our customers ever regretted paying more and getting their monies worth."
---
Professional photography is an ART, a SCIENCE and a BUSINESS, too many websites only show you their ART leaving you with only one-third of the information you really need. We want you to make an informed decision, that's why we answer many of your questions on this website and give you lots of information that will help you make an educated decision and avoid future disappointment.
Our commitment to 'truth-in-advertising' doesn't allow us to engage in the deceitful practice of posting the 'best-of-the-best' (top 1%) of an events enhanced images on an exaggerated blog that ultimately leaves you disappointed in the other 99% of the images delivered. Enjoy!

If you like what you see, don't delay, call or e-mail today to get a customized quote, before another bride books your date.
Our wedding packages start at $1200. Our most popular packages range in price from: $2400-3200.
---
Let's meet at our homestudio or VIA Skype and look over the albums, make sure we are a good match and put together a customized package just for you that matches your budget!
Below are some of our finished wedding albums that help to preserve the excitement of your big day for years to come.
(from real weddings & real customers- where the bride chose the pictures for the album)
--not 'sample' albums--, the real deal!

By viewing our designed albums from our our real clients, you can see how we preserve the REAL personalities of each event!
(of course viewing the printed album in person is better than just looking on the computer screen)
REAL wedding albums from our Preferred Venues: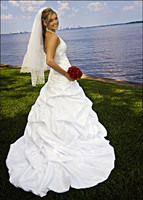 Bridal Album
---