I have been asked to clarify the 3 main types of 'guest wedding photographers' you may find at a wedding and reception:

1- Box Camera Betty: She is harmless and doesn't own a camera but can recognize the disposable box camera on the table. Although she hasn't used a box camera before, the more she drinks the more interest she has in it. Before the night is over she is taking all kinds of 'fun' photographs of her finger, the bathroom, peoples legs under the table, feet, walls, blurry table decorations, flash-blasted-out cake shots, the ceiling and someone's nose. In the end the bride & groom spend lots of money on cameras & developing and are very disappointed in the quality and subject matter of the photos (although they've got lots of them!).

2- Snap-shooter Sammy: He is somewhat of a camera buff, has a cool high-tech camera and has a great time taking all kinds of photos just about everywhere he goes. He may end up ruining your reception plans by running around and making everyone gather in groups to say cheese for his camera. Although he may take a few cute pictures and gladly give the bride & groom some free copies of them, too often he ends up in too many of the paid professional photographer's photos while herding in your guests.

3- Paparazzi Pete: He started similar to Snap-shooter Sammy but then one day he bought an expensive camera and something snapped. Today he has a deep hidden competitive desire to one day take a better photograph than the professional photographer you hired. He secretly wishes he was the paid photographer at your wedding and will obnoxiously disrupt anything photographic on your wedding day. As an invited guest at your event he thinks he is aggressively competing with the hired professional to 'get the shot'. Ultimately he will ruin the day by getting in the way, creating a scene when asked not to disrupt the formal group photo session and ruin lots of reception photos by creating stray flash. His wedding gift to you? -bad photography on your wedding day!

Some things are just best left to the professionals. If your hobby was singing in church and you were a guest at a church wedding would you stand and start singing when the hired vocalist began to sing from the pulpit? If your hobby is photography would you begin to take pictures at a private group photo session and disrupt the hired professionals? Even though your aunt enjoys cooking and makes a great pie, common social etiquette says she shouldn't bring her own pie to your catered reception and serve it.
To the bride & groom: Once you have hired a competent professional photographer that will take ample photographs at your event (of a much higher quality than any other photos taken that day) why would you need amateur photography too? Do you want your professional photos to be of your friends having a good time together or would you rather have photos of your friends taking photos of each other?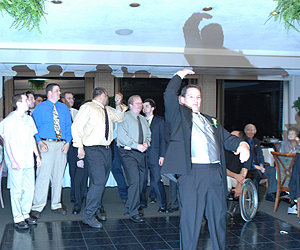 The same problem can result from less than professional video people with extra lights, personnel and equipment that ends up in more of the photos than you may want.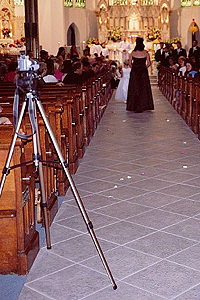 If you want paparazzi at your wedding we will do our best to work around them, otherwise be sure your guests understand your expectations.
---