With the recent increase in popularity of Black and White Wedding Photography some 'traditional' photographers are adding 'black and white coverage' to their wedding packages. Too often their 'black and white' photos arn't any different than their color photos (just without the color).

Often what is being offered as 'black and white' isn't true black and white, but is a manipulated 'effect' wherein a color image is converted into black and white simply by removing the color and then printing on color photographic paper. (This can be done digitally or from a color negative manually) These manipulation effects have been around for years and are often easiest for the photographer to do but don't have the same look or feel as true black and white film printed on black and white photographic paper.
There are many types of black and white film on the market today and each has its own unique characteristics. I will often use up to 3 different types of real B&W film and 3 different types of color film (in 7 different cameras) at one wedding. The look of the final image will be determined by many factors. Some of these factors include: film speed, grain, contrast, lighting, exposure and development. These same factors are not just inherent in the film, but also in the paper the final photo is printed on.
The simple minded would have us believe that the world is only black and white, reality is, there are lots of shades of gray. Black and White film has a much greater dynamic range (up to 9 stops) than color film or professional digital (up to 7 stops) and is able to capture all those various and diverse shades of gray which add a much greater depth and richness to an image making it so much more interesting, fulfilling and rewarding.
Too often a color wedding photograph with the color removed is just that. I don't find the original color photograph or the one with the color removed any more or less appealing than the other. The presence or absence of color is only one element that makes up the photograph. Changing that one element in typical wedding photography rarely creates any dramatic effect.
Many digital only photographers treat black and white as an 'after thought' and often only do a simple digital B&W conversion of their 'problem' color images. We use a completely separate process for our black and white photographs. Everything from the camera & lens choice, the settings on the camera, type of images captured, on through the developing and the final output is designed for the final black and white output.
As a dedicated professional striving to create images on a higher level of the artistic plane (beware her comes my soap box) I prefer to capture black and white images totally different than I do color images. That is why I refer to my black and white images as 'intimate black and whites'. I use two uniquely different cameras at the same time. One color and one B&W with completely different settings, lenses, processes, etc. (Much more difficult and costly than 'color only' photography)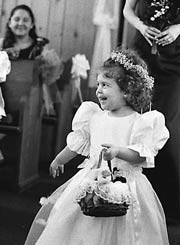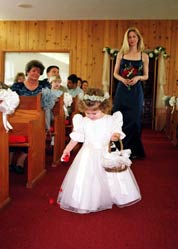 The two images to the right were captured only seconds apart but when placed side by side are actually worlds apart. The color image typically captures what most people saw and remember (documentary in style). The black and white image is usually a more intimate, but raw, simplified picture that shows you something that most people missed. It's these intimate moments uniquely captured in black and white and printed on real black and white photographic paper that add the finishing details to round out your complete wedding story and are often the couples' most memorable and favorite images.
I encourage couples to mix both my color and black and white photographs throughout their album, even on the same page, as they were designed to compliment each other perfectly.
(also see photojournalism vs. traditional wedding photography)