Bat and Bar Mitzvah Albums
By Jacksonville Photographer Dan Harris


Our Heirloom PhotoArt® Mitzvah Albums are: water-resistant, fingerprint proof, scuff-resistant and tested not to fade for hundreds of years.
We offer the finest archival-quality photos and albums available. Our quality workmanship can best be seen in person, set an appointment today to view a finished album in our studio.

We won't sell any product we can't guarantee so for that reason we don't sell soft-bound albums or albums with paper-thin pages.
A Bat or Bar Mitzvah is a magic event, marking an important milestone in your child's life. Our studio's artistic vision and technological ability will help transform this event into a story to be told again and again. In keeping with our dedication to quality, we choose to offer Art Leather's distinctive and unique line of albums.
Art Leather Albums
Guaranteed to last a lifetime, Art Leather's albums are renowned for their outstanding quality and craftsmanship. Each Art Leather album is created to emphasize the beauty of professional photographs and allows you to showcase your treasured images and express your individuality with elegance and style!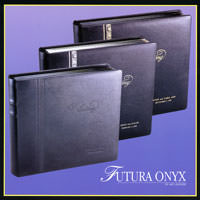 We will assist you in a complete customization of your own unique album. No additional charge for engraving, color choices, design choices, etc. You can choose your page designs from over 200 page styles.
Heirloom Quality
Your child's memories should last a lifetime for you, your special relatives and closest friends. When you reflect back on that special day, your Art Leather album will be your personal storybook. Your event, our images and Art Leather albums combine to create a custom keepsake destined to become a family heirloom. We take some extra steps in the creation of our album pages to insure long-term permanence. All photos in your album are protected by an ultra-violet inhibitor- waterproof coating. We only use archival 'library-approved' materials to mount your images in your album.
Black on Black
We feature Art Leather's 'black on black' Futura Onyx Album with your choice of cover designs, colors and imprinting at no additional charge. The Futura album is the perfect backdrop for displaying both black and white and color images. We add a couple extra 'archival' steps in the preparation of our photographs for album display to insure lifetime permanence.
---
Please note: Due to color and clarity differences between computer monitors and programs, the color shades, lightness/darkness and clarity of these photos may not be correctly represented on this web site. For a more accurate representation, please set an appointment to view the originals.
This complete website (www.danharrisphotoart.com) and all content (including photographs and verbiage) is copyrighted and cannot be used without permission. ©2009 Dan Harris PhotoArt All Rights Reserved
Dan Harris PhotoArt, LLC
(904) 398-7668
1124 Riviera Street
Jacksonville
FL
32207