Don't settle for less when you can have the best!

Check out our Jacksonville Wedding Photography image galleries FLASH websites at:

www.GreatWeddingPhotography.com
or
www.GetRealPhotography.com

CALL 398-7668 or e-mail: info@danharrisphotoart.com
To schedule you Engagement Photo Session


This historical website communicates that we are not the newest 'here-today-gone-tomorrow', 'flash-in-the-pan', fad photographer and demonstrates that what we did 10-15 years ago remains relevant and timeless.

Check out a bride's story in Premier Bride Magazine

New Year Special:

ask about $1000 off our 7-hour, 2-photographer, Heirloom PhotoArt® Wedding Album package
(limited to the first 10 events booked before 3/31/12 --date of event doesn't matter.)

Every Wedding Package includes:
FREE DIGITAL FILES
(with minimum purchase)

Check out our wedding photography DVD slideshows on youtube in St. Augustine, Ponte Vedra Beach and TPC


~ "Your wedding day . . . Your way!" ~

~ Spontaneous, Romantic & Fun! ~
(As featured in Southern Living Weddings Magazine~ click on photo)
Download this desktop wallpaper
Our printed Heirloom PhotoArt® looks much better than digital files!
Talk to any of our former brides and you will learn that our photography is truly different, not just random snaps, nor faked fashions, every picture comes with a heartfelt memory, one that brings you back to a specific moment in time and an incredible place. A place you, your family, your loved ones and your children's children will want to visit time and time again. Hiring Dan and his staff will be one of the best decisions you will ever make. The value of what we provide is much greater than the price we charge --guaranteed! Anything of value requires a substantial investment. Not everyone is willing to, or able to, make that investment. We have committed whole-heartedly to insure your success and overwhelming satisfaction and have proven it time and time again. Why settle for less? Call us now at 398-7668 and we will do everything we can to help you fulfill your dreams!
Dan has personally photographed over 500 weddings and is a certified member of the elite Wedding Photojournalist Association www.WPJA.com (less than 5% of all wedding photographers world-wide qualify for membership); is a Better Business Bureau Accredited Business since 2001; received Best of Jax 2008, 2009, 2010 & 2011 awards; received the 2010 and 2011 Bride's Choice award and is also a qualifying full-time NPS member (Nikon Professional Services), has been published in countless magazines and has won countless awards from national and international organizations for his images.
~ Unique, Modern Jacksonville Wedding Photography ~

Helpful information: site map. Traditionl vs Photojournalism Wedding Photography

Our Wedding Photography Philosophy, Our Commitment to you
For years you've dreamt of your extraordinary wedding day. All your hard work and preparation will insure that it's not only beautiful and elegant, but fun ~it will be like none other! A 'cookie-cutter' approach isn't quite your style. You really don't want the same old contrived and boring wedding photography either, nor do you want your complete wedding day spoiled with hours of picture posing. You want something different, customized and unique. (with less cheeze) Your day ...your way!
Nothing about you, your relationship or your event is fake or cheezy, so why should your photography be? We are passionate about capturing the real heart-felt moments of your day along with all the fine details and style of your wedding in a unique and artistic way without Interrupting the natural flow of the day. That's why we create an unlimited amount of images in high-definition photography to naturally capture your day, in a stress-free and spontaneously fun way!
(the photos we took years ago are still classic and timeless,
--if not for the hair style--, they would never be outdated!
Same with the photos we will take for you!)
Capturing the distinguishing moments . . . for a lifetime of memories!
After the flowers have faded, and the food's been enjoyed, the moments remembered on your unique wedding day past, will be shared and remembered through your beautiful wedding-day photographs preserved in a Heirloom PhotoArt ® storybook wedding album that will last for multiple generations. We have the experience, skill and talent needed to create great images without: imposing our schedule on you; bossing you around; keeping you away from your reception or guests; and without stealing the spotlight from the bride and groom.
Our unobtrusive stress-free, artistic, photojournalism style and adaptability along with our customized wedding photography packages and albums insure you get exactly what YOU want! We capture what really happened instead of just what the photographer made happen! Spontaneous, romantic & fun ...not contrived. Your day ...your way! Why settle for less? You can find cheaper, but you won't find better! You deserve the best! Real Photos bring back real heart-felt memories, faked or forced photos bring back bad memories! The choice is yours.
One of your most important wedding keepsakes (besides each other) will be your cherished wedding album. If you don't get your wedding covered properly to begin with, you won't have anything but regrets to work with later. The bitterness of poor coverage & low quality remain long after the sweetness of low price is forgot. Don't spend all your budget on the things that won't last. In the whole scheme of things, professional photography isn't expensive ~ it's priceless. We have covered more than 480 weddings, our extensive experience and outstanding customer satisfaction are your assurance of your event coverage being a success! Don't trust your family legacy to the inexperienced!
Photojournalistic Wedding Photography Style
No two weddings are alike just like no two photographers are alike. Now-a-days EVERYONE is a photographer and every 'Wedding Photographer' has pretty pictures on their website. (too many are of models and fake brides creating false advertising) Do they really have the skill, equipment and experience to be able to do a professional job in a courteous and timely manner and meet your highest expectations? (your job is to dig for the truth --look at real albums and actual finished products, not samples or advertising hype!) In the end what will they really do for you? Will your wedding-day photos capture all the important emotions of the day and bring you back to that exact moment in time. Or will you be disappointed with poorly exposed, out-of-focus photos that you paid good money for, but aren't much better than your guests took? We work closely with you, throughout the complete process without imposing a 'cookie-cutter style' on you. We work to create what is really important to you.
We arn't right for everybody, but if you like our style and it looks like we are a good match, let's get together with your fiancee' and your mother (your bestfriend, coordinator, dad, etc.) and put together a customized package for your special day before another bride books your date. Call or e-mail us to schedule an appointment. We also offer evening and weekend appointments for your convenience.
The Wedding Revolution has Begun!
Too many brides have been told to shop for a CD, rather than for the finished products they really wanted and have been disappointed in the end! Don't hire a photographer unless they guarantee your final printed products! A CD isn't a finished product and may only bring disappointment in the end when you discover it is incapable of creating the printed products you really wanted. A photographer who is working with you from beginning to end and is shooting to create the perfect images for a printed album will be much more meticulous than one who is only shooting to quickly burn a CD and leave you stranded. As a highly skilled Jacksonville professional photographer offering unique high-definition photography we haven't forgotten that we work for you, (not the other way around!) Our goal is to tell the real story of your wedding day, not dictate it for you! When it comes to the wedding photography; we will capture all the fun, spontaneity and grandeur of your day without getting in your way!
Our printed Heirloom PhotoArt® looks better and lasts longer than digital files!
You deserve the uniquely customized Great Wedding Photography services and archival products we offer. We stand behind all our products 100%. If you don't like it, we will re-do it! No problem, no worries! As an independent small business, we aren't the photographer for the masses. We will capture those distinguishing moments, the unique essence of you, your relationships and your event in a spontaneous, stress-free, natural and fun way and then archivally preserve those memories for all time.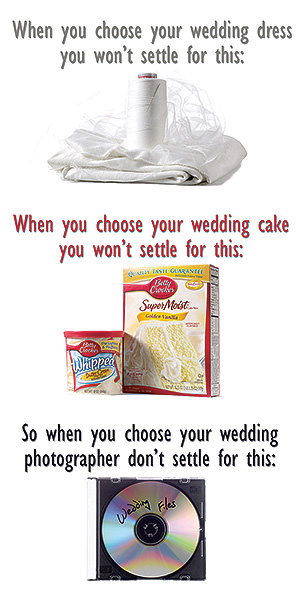 We retouch EVERY image we take, use up to 5 different cameras and 2 photographers at every event. Our Heirloom PhotoArt ® prints have been tested to NOT fade for hundreds of years --for generations of enjoyment! WE DO NOT use fake brides, models or pictures from photography seminars on our website or in our sample albums. ALL our pictures are from actual brides and real events! We have covered nearly 500 events in 15 years, you will benefit by our experience! We backup every wedding image twice and every ordered image 3 times and store them in a fireproof safe (at no small cost to us). We also have 10 tera-bytes of RAID redundant storage. If the photography is important, don't settle for less. We don't skimp on quality, neither should you! We have the skill, experience and equipment to do it right!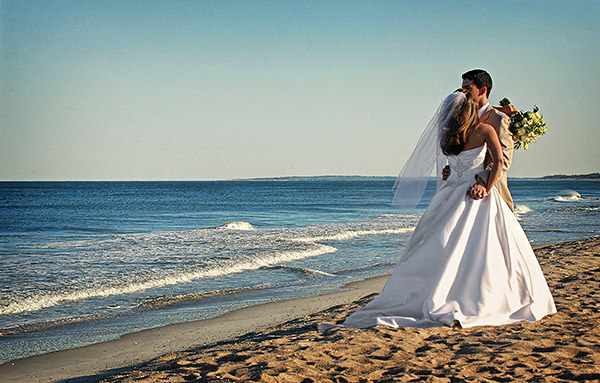 (Mouse-over the image for more information - Click here for more bad photography examples)
A note from Dan:

It saddens me to hear about disappointed brides who wasted good money on unfinished work; a TRUE professional photographer will see your project all the way through to the final printed product AND will guarantee the finished results! Today there are lots of photographers …not many TRUE professionals

!
I'm sorry to hear about the recent MIA photographers on the news (channel 4) and the poor brides who can't get their images and albums they have already paid for. Many new photographers learn quickly that the hobby of photography is much more fun than the business of photography! A popular problem with NEW wedding and event photographers (less than 7 years in business) is they book lots of events and spend the money before they complete the services and deliver the goods, so after a couple years of 'robbing from Peter to pay Paul' they run out of money and can't deliver what has already been paid for, so they skip town.

The same problem also occurs on a physical and emotional level. They burn the candle from both ends (they have a regular job, a family life and a part-time photography job) and book more events than they can possibly handle and ultimately end up 'emotionally bankrupt' so they skip town to escape the trap they created for themself. This is why when I teach photography classes I tell other photographers they should continually be taking inventory and asking themselves: "is this sustainable?" and if it isn't, they need to quickly make changes to insure their longevity not only for their customers, but also for their own family.
Today there are 4 times more 'wedding photographers' than there were 4 years ago. The problem is the increase in quantity hasn't increased the quality. Too many photographers today are providing poorly focused, offensively fluorescent , blurry, burned-out, poorly lit and unretouched images. Without thorough research, you probably only have a 20% chance of getting it right. When you shop for a wedding photographer you really didn't want to also have to become a private investigator, but with the increasing number of industry problems, you will be well served to do your homework! You have to work hard to get past the faked advertising images and find out what they are really providing on a regular basis.
Do yourself a favor, DO NOT hire a photographer (at any price) who doesn't use multiple cameras, a second photographer and have a multi-tiered backup workflow in place, otherwise you will lose everything when their equipment fails or their hard drive crashes! Only hire someone who provides fully-guaranteed, archivally finished printed products, otherwise you may just end up with vapor ware! Past performance is a good indication of future success. Established homeowners with a good reputation and a stable track record are a much better bet than renters who are new to town.
"Capturing the distinguishing moments of your beautiful day in a stress-free and spontaneously fun way!"
We provide two unobtrusive professional photographers at every event and use high definition photography to create hundreds of phenominal images that will be archivally preserved in your totally customized Heirloom PhotoArt ® album for a lifetime of cherished memories now and forever for you and your future generations!
Every wedding package includes: pre-planning consultations, wedding-day coverage with two photographers, 90-day ordering website, complete retouching, 50% off online print prices with no mimimum order required, complete album design including 2 complete revisions, CD of every image on the website, complimentary engagement OR bridal photo session and post wedding consultations.
Our typical wedding-day coverages start at: $1200 and may require additional minimum purchase requirements depending on the event date. We have 20-page printed Heirloom PhotoArt® albums starting at: $400, $600, $850, $1200, $1600, $1950 and $2400 Depending on the cover style & size. Call now to set an appointment to discuss your specific details.
Ready to get down to business? Like what you see? E-mail us with your date and we will check our availability.
We treat you right, are easy to work with and give you the best, top-of-the-line quality at a competitive price.
Our Price Guarantee: You won't find better quality at a lower price!

---
This Florida Wedding Photographer (passport enabled) is available worldwide
(We maintain strict confidentiality agreements for our celebrity clients)
---
Don't delay... we only have a few saturdays left for 2012 and we are booking for 2013 and beyond.
E-mail us now to see if we still have your date available.

We apologize to the many brides that we have had to turn away because their date has already been booked. We often book Saturday events 12-18 months in advance. To assure our high-quality standards we can only offer our totally customized services to about 28 of the best weddings each year. If we don't have your date available, use these resources to help find the photographer who is right for you:
Click here for helpful information about choosing the right wedding photographer.
Don't hire a photographer who isn't covered by indemnification insurance as supplied by this national photography organization:
Click here to search for a PPA photographer.
---
As Featured in: Primer Bride, The Knot - Wedding Pages Magazine, Southern Living Weddings and The Perfect Wedding Guide.

Member of BBB- Better Business Bureau, WPPI- Wedding and Portrait Photographers International, PPA- Professional Photographers of America and PPSNF -Professional Photographers Society of North Florida.
---

---

---

---
This complete website (www.danharrisphotoart.com) is not too slick, but is totally 'home grown' designed by me and all content (including photographs and verbiage) is copyrighted and should not be used without permission.
©2011 Dan Harris PhotoArt All Rights Reserved